---

---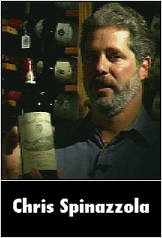 Wine Cellar
with Chris Spinazzola
As Executive Director of the Anthony Spinazzola Foundation, Chris Spinazzola presides over some of New England's most prestigious food and wine events. He is a past member of the Board of Directors for the Massachusetts Restaurant Association.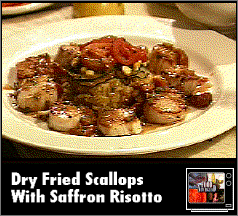 Wine Recommendation:
Dry Fried Scallops with Saffron Risotto
A fruity chardonnay, a pinot grigio, or a sauvignon blanc. A sparkling wine would also be good.
---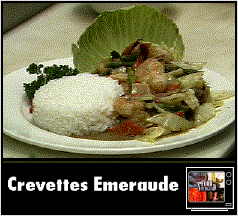 Wine Recommendation:
Crevettes Emeraude
Stag's Leap Chenin Blanc or a Spanish rioja.
---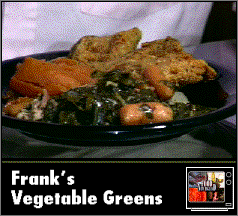 Wine Recommendation:
Frank's Vegetable Greens
Either a Chateau D'jau Jaja Blanc or Jaja Rouge.
---







[Professional Chef] [Ethnic Eats] [Home Cookin'] [The Wine Cellar] [Nutrition Spot] [Recipes] [N.E. Things]
---
FOOD NEW ENGLAND

Regional Gourmet & Ethnic Foods on TV.

E-mail Food New England at: ideas@foodne.com

Food New England is exclusively created, developed, and marketed by Roberto Mighty Productions, P.O. Box 1774, Brookline, MA 02146.
Copyright 1995. All rights reserved.

URL: http://www.fluffy.com/fne/wine1.html
Show # 1.01