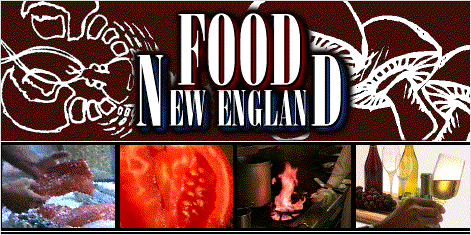 FOOD NEW ENGLAND:
Regional Gourmet & Ethnic Foods on TV.
Saturday mornings at 9:30 on TV68 in Boston, TV58 on Cape Cod,
and TV21 in Concord New Hampshire.
---
Every week, this fast-paced TV magazine meets the hottest chefs in the region and explores new and exquisite foods. Food New England introduces you to the variety of ethnic cuisines now finding a home in the region. The show also goes into home kitchens throughout New England to see "just plain folks" cook their best dishes.

[ This site represents the original design of the Food New England web site. For a look at the current site, maintained by the nice folks at Food New England, please visit http://world.std.com/~foodne/ ]
---







[Professional Chef] [Ethnic Eats] [Home Cookin'] [The Wine Cellar] [Nutrition Spot] [Recipes] [N.E. Things]
Do you have comments about the show? Recommendations for our Home Cookin' segment? Your favorite gourmet or ethnic chefs? Contact us at 800-986-9090 or via our Email address: ideas@foodne.com

For information on sponsoring Food New England, contact Roberto Mighty at 617-965-7022.
---
FOOD NEW ENGLAND

Regional Gourmet & Ethnic Foods on TV.

E-mail Food New England at: ideas@foodne.com

Food New England is exclusively created, developed, and marketed by Roberto Mighty Productions, P.O. Box 1774, Brookline, MA 02146.
Copyright 1995. All rights reserved.

URL: http://www.fluffy.com/fne/index.html
Show # 1.01