---

---
Nutrition Spot
with Elizabeth Ward
Elizabeth Ward is a registered dietitian, an author and a contributor to several major newspapers. She is also the nutritionist at large for a large health maintenance organization in the Greater Boston area. She has appeared on "CNN," "Chronicle" and on "The Ten O'Clock News."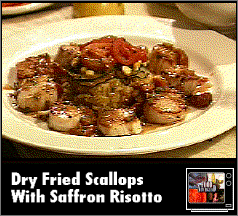 Nutritional Analysis:
Dry Fried Scallops with Saffron Risotto
854 calories; 19 grams fat; 89 milligrams of cholesterol; 142 milligrams sodium. Gordon's dish is not a low fat dish. Have it on a special occasion. You can reduce the oil in this recipe and it still tastes great. Enjoy!
---
Health Tip of the Week: Concentrate on adding more fruits and vegetables to your diet - at least 5 or more servings a day. One serving is a piece of fruit, 3/4 cup of juice, or 1/2 cup of cooked vegetables.
---







[Professional Chef] [Ethnic Eats] [Home Cookin'] [The Wine Cellar] [Nutrition Spot] [Recipes] [N.E. Things]
---
FOOD NEW ENGLAND

Regional Gourmet & Ethnic Foods on TV.

E-mail Food New England at: ideas@foodne.com

Food New England is exclusively created, developed, and marketed by Roberto Mighty Productions, P.O. Box 1774, Brookline, MA 02146.
Copyright 1995. All rights reserved.

URL: http://www.fluffy.com/fne/nutrition1.html
Show # 1.01