---

---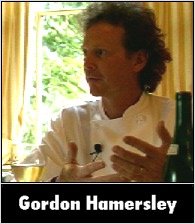 This Week's Professional Chef:
Gordon Hamersley
Gordon Hamersley began his restaurant training in the early 1970s by working in French-style restaurants, while attending college at Boston University. He continued his culinary education in the kitchens of such world-renowned chefs as Wolfgang Puck at Ma Maison in Los Angeles, and Lydia Shire at Biba's in Boston. Gordon and his wife, Fiona, opened their restaurant, Hamersley's Bistro, in a tiny storefront in Boston's South End in 1987. With its focus on traditional, hearty French-inspired food and American bistro dishes, the restaurant was an immediate success. Since then, Gordon and Hamersley's Bistro have won numerous awards, including the prestigious "Best Chef in the Northeast 1995" given by the James Beard Foundation.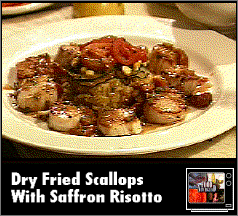 Chef Gordon Hamersley's Selection:
Dry Fried Scallops with Saffron Risotto
---
Chef Gordon Hamersley's Tip of the Week: Ask your seafood provider for "dry" scallops. Dry scallops have not been plumped with water or a salt solution. Also don't crowd the scallops in the pan, and cook only on one side.
---







[Professional Chef] [Ethnic Eats] [Home Cookin'] [The Wine Cellar] [Nutrition Spot] [Recipes] [N.E. Things]
---
FOOD NEW ENGLAND

Regional Gourmet & Ethnic Foods on TV.

E-mail Food New England at: ideas@foodne.com

Food New England is exclusively created, developed, and marketed by Roberto Mighty Productions, P.O. Box 1774, Brookline, MA 02146.
Copyright 1995. All rights reserved.

URL: http://www.fluffy.com/fne/prochef1.html
Show # 1.01