---
---
Recipes from Food New England Show #1.01:
---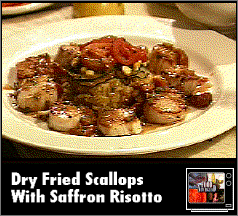 Dry Fried Scallops
with Saffron Risotto, Corn and Zucchini
From Hamersley's Bistro
© 1995 Hamersley's Bistro
---
For the risotto (arboreal rice) cake:

1 teaspoon olive oil
1 shallot peeled and minced
3/4 cup arboreal rice or its equivalent
3 cups of vegetable stock or water
1 pinch saffron threads
2 tablespoons olive oil
1/2 ounce zucchini cut into very thin rounds
1/2 ounce plum tomato cut into medium rounds
15 kernels of fresh corn blanched


For the scallops and sauce:

1 tablespoon of canola oil
6 ounces of dry sea scallops
1 shallot peeled and sliced
1 ounce vegetable stock
4 ounces white wine
2 tablespoons heavy cream
1/2 teaspoon unsalted butter
salt, pepper and lemon juice to taste
3 flat leaf parsley leaves for garnish


Special equipment: Small sauce pot to cook the rice, sauté pans for the vegetables and scallops. A small wooden spoon to stir the rice. Small plates or the equivalent for cooling vegetables.

1. In a sauce pan large enough to hold the rice heat the olive oil until moderately hot and then sweat the shallot until translucent. Add the rice and the saffron and cook for 45 seconds. Add half the stock turning down the heat and stir gently until all the liquid has been absorbed. Add the remaining stock and continue to stir until the liquid is absorbed. Test for doneness. The rice should be creamy but still al dente. If another addition of liquid is required proceed as before. Season with salt and pepper to taste and pour the rice out onto a plate to cool.

2. While the rice is cooling, heat the olive oil in a sauté pan until hot and add the zucchini. Cook on both sides until just done. Remove to a plate to cool. In the same pan add the tomatoes and cook on both sides until they are done. The whole process takes about three minutes. Remove the tomatoes to another plate to cool.

3. To make the cake: line the plates up in a line and form a cake with your hands about three inches by one and one half inches. Place the zucchini slices on to of each cake followed by the corn and then the tomatoes. Season with salt and pepper. Refrigerate for fifteen minutes before proceeding.

4. Preheat the oven to 350 degrees. Heat two sauté pans large enough to hold the scallops and cake respectively and add 1 tablespoon of oil in each. Carefully place the risotto cake in one pan, and then place in the oven until heated through. (About eight minutes) Reserve.

5. Season the scallops with salt and pepper taste. When the pan is very hot, add the scallops carefully. Arrange them in the pan so they are not touching. Cook over high heat until they are brown on one side. (About two minutes) Turn each scallop and remove them to a serving plate.

6. To make the sauce: Add the sliced shallot, the wine and the vegetable stock to the pan. Let this reduce by half and then add two tablespoons of cream and bring it to a boil. Finish the sauce by whisking in to the mixture one half teaspoon of cold, unsalted butter. Season to taste with salt, pepper and lemon juice.

7. To serve: Place the risotto cake in the middle of the plate and arrange the scallops around it. Drizzle the sauce over and around the scallops and place the parsley leaves around the plate. Serve immediately.

© 1995 Hamersley's Bistro
[Return to Recipe List] [Navigation Bar] [Return to Professional Chef]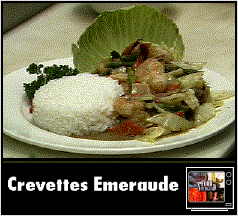 Crevettes Emeraude
(Aromatic Black Tiger Shrimp with Fresh Garden Vegetables)
From the Elephant Walk Restaurant
© 1995 Longteine de Monteiro and Nadsa de Monteiro-Perry
(Recipe serves 4)

---
Ingredients:

1 lb. black tiger shrimp, shelled and de-veined (can substitute thinly sliced chicken breast)
1/2 cup minced lemongrass
1/2 cup minced cilantro stems (the product of one large bunch)
1 tsp chopped galangal
1 tsp coriander seeds
8 medium-sized garlic cloves
1 tbsp kaffir lime leaves, de-veined
1 tbsp tamarind pulp
1 ripe cubanelle pepper, cut into 1 inch diagonal slices (red bell peppers are an adequate substitute)
6 oz asparagus cut into 1 1/2 inch lengths
6 oz savoy cabbage cut into 1 inch diagonal slices
3 tbsp vegetable oil of choice
1 tsp salt
1 tbsp sugar
3/4 cup water
1 cup chicken stock

1. Add to blender: cilantro, galangal, lemongrass, coriander seeds, garlic, kaffir lime leaves and water. Blend into a very smooth paste and set aside.

2. Soak the tamarind pulp in about 4 tablespoons of hot water for 5 minutes. Using a spoon, scrape the flesh away from the pulp to release the tamarind flavor into the water. Discard the pulp. Set the tamarind juice aside.

3. In a wok (a 12-inch sauté pan is an adequate substitute) over high heat add 2 tablespoons of vegetable oil. Add the paste and stir constantly for approximately 2 minutes, until the aroma is released. Transfer the cooked paste into a bowl.

4. Add the remaining tablespoons of oil to the wok. Add the shrimp and stir fry for 15 seconds. Add all of the sliced vegetables and stir fry for 3 to for minutes, until the vegetables have reached your desired tenderness. Add the paste, chicken stock, salt, sugar, and tamarind juice and stir fry for two more minutes.

5. Garnish with cilantro leaves and served immediately.

Serve with jasmine rice and chilies of your choice!

© 1995 Longteine de Monteiro and Nadsa de Monteiro-Perry
[Return to Recipe List] [Navigation Bar] [Return to Ethnic Eats]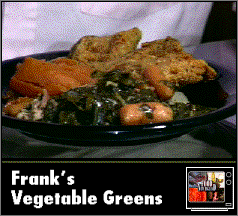 Frank's Vegetable Greens
From Frank Wilkins
---
Ingredients:

3 smoked turkey tails
2 Tbs of sugar
1/4 cup of cooking oil (preferably oil that has been used to cook something else, so it is well seasoned)
several large bunches of collard greens (enough to fill the pot)
5 carrots, scraped and cut into cubes
1/4 cup vinegar (either white, apple cider or wine)
3 medium okra, diced
6-10 large mushrooms, sliced
1/2 large yellow or red onion, finely chopped

1. In a deep pot, bring about one and a half quarts of water to a boil. Add three smoked turkey tails, and return to a boil. Add two tablespoons of sugar and 1/4 cup of cooking oil.

2. Wash the greens thoroughly and remove the stems. Shred the greens.

3. To the boiling water, add the cubed carrots and let cook for 3-4 minutes.

4. Add the greens to the pot. Add 1/4 cup vinegar. Add diced okra. Add the sliced mushrooms. Add the chopped onions.

5. Reduce heat to medium. Cover the pot and cook for 1 hour.
[Return to Recipe List] [Navigation Bar] [Return to Home Cookin']







[Professional Chef] [Ethnic Eats] [Home Cookin'] [The Wine Cellar] [Nutrition Spot] [Recipes] [N.E. Things]
---
FOOD NEW ENGLAND

Regional Gourmet & Ethnic Foods on TV.

E-mail Food New England at: ideas@foodne.com

Food New England is exclusively created, developed, and marketed by Roberto Mighty Productions, P.O. Box 1774, Brookline, MA 02146.
Copyright 1995. All rights reserved.

URL: http://www.fluffy.com/fne/recipes1.html
Show # 1.01