---

---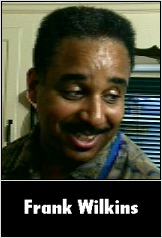 Home Cookin' Feature:
Frank Wilkins
Jazz pianist Frank Wilkins, originally from Milwaukee, has lived in the Boston area for many years. He has performed with a Who's Who list of local, national and international jazz greats. Frank has toured around the world with his own ensemble and others. His "Frank Wilkins Vocal Showcase" appears once a month at Scullers in the Doubletree Guest Suites Hotel in Boston.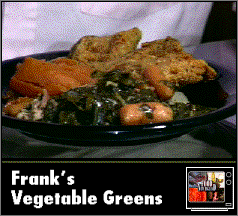 Home Cookin' Selection:
Frank's Vegetable Greens
---
"When I eat out, I eat out at":
Bob the Chef's in Boston's South End
---
Frank's favorite cookbook is:
Jazz Cooks: Portraits and Recipes of the Greats by Bob Young and Al Stankus
---







[Professional Chef] [Ethnic Eats] [Home Cookin'] [The Wine Cellar] [Nutrition Spot] [Recipes] [N.E. Things]
---
FOOD NEW ENGLAND

Regional Gourmet & Ethnic Foods on TV.

E-mail Food New England at: ideas@foodne.com

Food New England is exclusively created, developed, and marketed by Roberto Mighty Productions, P.O. Box 1774, Brookline, MA 02146.
Copyright 1995. All rights reserved.

URL: http://www.fluffy.com/fne/homecook1.html
Show # 1.01