Fluffy's World
Sponsoring Fluffy's World
---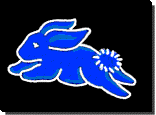 Fluffy thanks her newest sponsors:
" Owen and Toni "
C.A. Johnson and Toni Whyte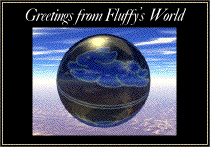 Bright blue bunnies still need patrons.
Please consider becoming a Patron of Fluffy's World.
Your financial support will help defray the cost, in time and money,
of maintaining and expanding this site.

The suggested individual contribution is $5,
but any amount is appreciated.
Corporate sponsors,please contact
Wayward Fluffy Publications.

If you wish to sponsor this site, please send your contribution to:

Wayward Fluffy Publications
38 Sandy Ridge Road
Stoughton, MA 02072

Thank you.
---
---
[Home Page] [Essays and Stories] [The Gallery] [The Sign at the Door]
[Beyond Fluffy's World] [Web Page Services] [Sponsoring Fluffy's World]
---
Contents © 1994, 1995 Wayward Fluffy Publications.
Last revised: August 16, 1995 by Wayward Fluffy Publications.

URL: http://www.tiac.net/users/wayward/fluffy/support.html